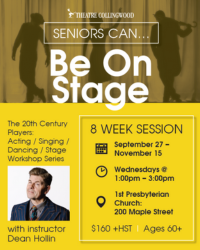 The 20th Century Players - Acting/Singing/Dancing/Stage Workshop Series
When
Occurs on Wednesday September 27 2023
Approximate running time: 2 hours
Venue
Event Notes
×
Here's the deal - there are only two things you need. You have to have been born in the twentieth century (I'm a Centennial babe, myself) - and you should ideally possess either a love of - or a curiosity regarding - the stage. That's it!
Nothing else is required. The rest we'll figure out together. Act, sing, dance - we'll explore it all! All options on the table!
Perhaps you've been away from the stage for a while. Maybe you've never been up there but have always wanted to give it a whirl! Whatever the case, I can't wait for us to create something fun and entertaining together! Sign up for what I'm calling "THE 20TH CENTURY PLAYERS" inaugural/autumn session today - directed by Yours Truly, Dean Hollin.
Your entrance awaits…
Eight Week Session
Wednesdays from 1:00 p.m. to 3:00 p.m.
September 27th - November 15th, 2023.