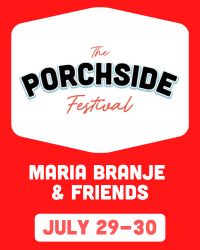 Porchside - Maria Branje & Friends
When
Runs from Saturday July 29 2023 to Sunday July 30 2023
Approximate running time: 1 hour
Venue
Event Notes
×
Starring Maria Branje
Local jazz singer Maria Branje and her friends love to perform great jazz music! Smooth sounds to sooth the soul! Sit back and enjoy the music of such greats as Ella Fitzgerald, Irving Berlin, George Gershwin, Jerome Kern and Henry Mancini, plus songs from famous Broadway musicals such as The King and I, Showboat, and Lullaby of Broadway, and those beautiful lyrics of Johnny Mercer. Such songs influenced by Canadian jazz vocalists and artists such as Emilie-Claire Barlow and Jane Monheit. Included will also be songs by icons like Gordon Lightfoot, Bob Dylan and the Beatles……. with a jazz flavour!
Maria Branje Vocalist
Maria studied vocal music and theory through the Toronto Conservatory of Music Program and has worked with children's choirs and music therapy for children with special needs. She began her musical theatre experiences when she moved to Barrie and became a member of the Kempenfelt Community Theatre, with lead roles in HMS Pinafore, Music Man, Smokey Joe's Café, and as the wicked stepmother in Cinderella. She was a member of the Madcap Cabaret Players in Barrie for 10 years. Maria's love of Jazz began when she became the vocalist for The Skyliner's Big Band in Barrie. She is a guest vocalist with Huronia Symphony Orchestra (Jazz Meets Classical) and the Barrie Concert Band. Maria is currently performing with a variety of amazing Jazz musicans throughout South Georgian Bay.
Bruce Rumble String Bass
Bruce has been playing music in the Barrie area for many years, beginning with the
Barrie Central Collegiate Concert Band. Since then he has performed in various concert bands, musical theatre shows, symphonic orchestras, big band swing groups and jazz combos including the Fig Leaf Jazz Band. Bruce has been fortunate to play with such luminaries as: Henry Cuesta, Peter Appleyard, Richard Whiteman, Danny McErlain, Doug Riley, Art Ellefson, Raphael Mendez, Paul Brodie, Bob Livingston, Norm Amadio, Mike Lewis and many other great jazz players.
Danny McErlain Keyboard
Performing at local clubs including the Home Smith Bar and The Rex, and guesting with the Canadian Jazz Quartet at Kama Club, pianist Danny McErlain joins such stellar sidemen as Don Thompson, Reg Schwager, Neil Swainson and Terry Clark. With 20 years experience alongside the late Henry Cuesta (clarinet), Danny's interest in traditional swing led him to the piano chair with Bob DeAngelis's symphony orchestra tribute to Benny Goodman. Concerts throughout Canada and the U.S. include the 70th anniversary tribute to Goodman at Carnegie Hall, appearances with Ross Wooldridge and his salute to the Goodman Sextet at clubs and jazz festivals across the GTA and Southern Ontario, as well as the Jazz FM Goodman Tribute broadcast, and a live Jazz FM tribute to the late Jim Galloway with the Don Vickery Quintet. His jazz festival appearances include the Toronto Downtown Jazz Festival, the Festival Of The Sound (Parry Sound), as well as festivals throughout Southern Ontario. Summers of 2014 - 2019 saw Danny in a concert series at Toronto's Casa Loma with the Toronto Concert Orchestra where sold-out performances included tributes to Billie Holiday, Edith Piaf and Frank Sinatra. Danny stepped up as conductor/pianist for the ailing Maestro Kerry Stratton (Casa Loma Summer Series) for "Piaf Encore" with vocalist Pandora Topp. Danny has worked with numerous vocalists including Jackie Richardson, Matt Dusk, John Alcorn, Ori Dagan, Barbara Lica and Molly Johnson.
Since 2017 Danny divides his time between Toronto and Orillia. A regular performer at the annual Orillia Jazz Festival, working with his own groups and with Brassworks, anm11 piece Big Band lead by Curtis Metcalf.
Russ Strathdee Saxaphone
Gifted with a quick ear, Russ feels quite comfortable improvising on the tenor, alto, soprano and bari sax in many genres, including Blues, Jazz, R&B, Rock and Country. Having studied music at Humber College, he has taught privately the saxophone to a select number of serious students. In the early 1960s Russ played popular music of the day on Toronto 39's Yonge Street Strip. He headed a group called The Ramblers at Toronto 39's Zanzibar Tavern and was seen by Ronnie Hawkins, who offered him a full time position in his band, The Hawks. But during that time Russ was studying Electronics at Ryerson and he made the decision to turn down that offer because he wanted to stay in college and not become a full-time musician! Russ played with some of the finest Toronto groups of that era such as The Regents with Dunc Judi and The Majestics featuring Shawn and Jay Jackson. He worked with the Majestics on a regular television series of CBC called Where It At. Relocating in the early 1980s from Toronto to Barrie, Ontario, Russ continued to perform with the Martels Rock and Roll Show, the Figleaf Jazz Band. Wayne Buttery band, The Groove Project, Little Caesar and The Consuls, James Anthony plus many others. Some of his ability to compose music is reflected in his 2003 recording of the album Reflections. As a recording session artist since the late 1950s, Russ has over 60 credits in the industry. One special project in 2010 was working extensively with the late, great pianist, Mark Rutherford, and producing their album, Steppin Back.
GENERAL SEATING - BRING YOUR OWN CHAIR!
Follow @porchsidefestival on Instagram for the most current, up-to-date information!