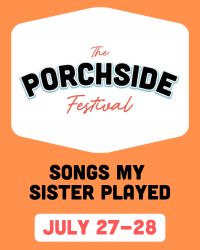 Porchside - Songs My Sister Played - Virgil Scott
When
Runs from Thursday July 27 2023 to Friday July 28 2023
Approximate running time: 1 hour
Venue
Event Notes
×
Starring Virgil Scott
Written and performed by Virgil Scott with keyboard accompanist
Songs My Sister Played is a curated performance chronicling one song a year from 1949-1965 and the stories that went with them. This was the music (and tv shows) Virgil's older sister brought home and introduced him to that he says are "basically the reason I became an entertainer." This is a walk down memory lane. A nostalgic journey of the 1950s and early 60s, reminiscences of North American culture and the influences of the time. This show is comical, uplifting, and may include impromptu group participation, invitations to sing, twist or Hula Hoop. Yes, it's just that much fun!
Virgil Scott's entertainment career began in 1968 with his neighbourhood band, "The Innocence of Virgil Scott". His natural talent soon found recognition, and Virgil was opening for major Canadian recording acts across Southern Ontario. During the same period, he spent two years in the Music Program at Humber College, as well as private vocal lessons under the mentorship of the world renowned Rosemary Burns.
The resurgence of Motown and Rhythm & Blues in the 80's propelled Virgil's career. He became a mainstay headliner at nightclubs and casinos across Canada and the United States, and to this day enjoys an extensive following.
Virgil has also enjoyed an impressive theatrical career, appearing in such productions as Bye Bye Birdie, The Grinch Who Stole Christmas, and the Toronto production of Hair.
You may recognize his voice from various jingles throughout the years, such as Hostess Chips, Diamond Cheese, Molson, Labatt's, The Bay, and Sears.
it's Collingwood after all!
GENERAL SEATING - BRING YOUR OWN CHAIR!
Follow @porchsidefestival on Instagram for the most current, up-to-date information!