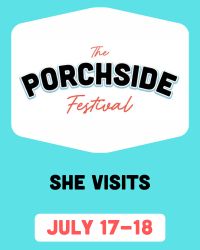 Porchside - She Visits - Maja Ardal
When
Runs from Monday July 17 2023 to Tuesday July 18 2023
Approximate running time: 1 hour
Venue
Event Notes
×
Starring Maja Ardal
Written & performed by Maja Ardal
Directed by Jeff Braunstein
Songs composed by Maja Ardal
Original music and song design by Matt Dawson
Set designer, Diane Frederick
Inspired by 'Der Besuch der Alten Dame' by Friedrich Dürrenmatt
She Visits is set in a small town suffering the economic impact of an unspoken world event. A terrible temptation arrives in the form of a rich old woman who once lived there. Maja Ardal's version of this story pinpoints the inequality of women in the legal system. It addresses how easily an impoverished community craves monetary wealth, and scrambles to re-invent truth to achieve it.
Maja Ardal's adaptation of Friedrich Dűrrenmatt's masterpiece (Der Besuch Der Alten Dame)—"The Visit of the Old Lady"—is as relevant now as it was when he wrote it in 1956. Lynn Slotkin - The Slotkin Letter
Maja Ardal
Maja, an Icelandic-Canadian, makes her home in Muskoka, Ontario. She acts, directs and writes plays. She has performed across Canada, the U.S and the U.K. with her award-winning solo shows You Fancy Yourself and The Cure for Everything (which was performed in The Porchside Festival in 2021). Her play The Hero of Hunter Street, directed by Kim Blackwell, was produced by 4th Line Theatre in 2016. In November 2021, she performed She Visits for Talk is Free Theatre. Her play HER2 was produced in 2015 by Nightwood Theatre, directed by Kim Blackwell.
Maja was Artistic Director of Young People's Theatre in Toronto. Her award-winning One Thing Leads to Another, Theatre for Babies toured across Canada. It was followed by a tour of You and I, Theatre for Walking Babies, produced by YPT in February 2022. She performed in Talk is Free Theatre's production of For Resting and Breeding, which toured to Australia in 2020.
Maja's TV appearances include Clara Potts in CBC/Disney's "The Road to Avonlea." She gives workshops in playwriting and performance. Last summer she performed for Canadian Stage in Dream in High Park. Maja has received multiple Dora Awards and received the 2002 George Luscombe Award for Mentorship in the Theatre.
GENERAL SEATING - BRING YOUR OWN CHAIR!
Follow @porchsidefestival on Instagram for the most current, up-to-date information!