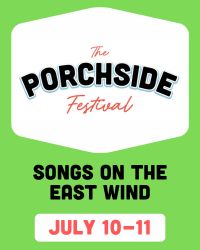 Porchside - Songs on the East Wind - Mary Kelly
When
Runs from Monday July 10 2023 to Tuesday July 11 2023
Approximate running time: 1 hour
Venue
Event Notes
×
Starring Mary Kelly
With accompanist Tom Leighton
One does not exactly know how much to believe of what she (the East Wind) says, for she is very naughty sometimes…mischievous . . .
So says George MacDonald in At the Back of the North Wind - we had no idea he'd spent time on Canada's east coast - he knows us so well!
Mary and Tom both hail from the Maritimes and are firmly rooted in the tradition of loving a good story in whatever form it comes. Songs on the East Wind has traditional folk, musical theatre, singer songwriter, acoustic pop, and jazz flavoured tunes. We call it folk cabaret and it's an entertaining, eclectic show!
Mary is a story teller - born and bred - spinning stories anywhere she can, believing that they are crucially important in life and should express the spirit of life's truth, if not always its facts!
Tom is a seasoned entertainer and musician, and has worked extensively as musical director, arranger, session player and all round wonderful performer. His impressive musical abilities add sophisticated colours and novel arrangements to every story he tells.
Mary Kelly spent five seasons as a Jazzagal on Schitt's Creek (SO fun), appeared in The Handmaid's Tale, played Lady Bracknell in The Importance of Being Earnest, Mrs. Higgins in My Fair Lady, and appeared in Mrs. America, The Handmaid's Tale, Orphan Black, Good Sam, The Hot Zone, In The Dark, Reign and Saving Hope. She made her New York theatrical debut in Living With Henry, originated roles in When All the Slaves Are Free (original musical based on music of Joni Mitchell); Sincerely, a Friend (original musical based on the music of Leonard Cohen); and was Sophie in Sophie Tucker, the Last of the Red Hot Lovers. www.mkdivamusic.com
Tom Leighton is a multi-instrumentalist who plays piano, organ, accordion and accordion bass, whistles, bodhran, bones and Irish bouzouki. Sometime he plays three at the same time! He was musical director and performer in productions of Just a Closer Walk with Patsy Cline, Hank Williams-the Show He Never Gave, Minerva, Ship of Fire, and Picton Papers. He has three solo instrumental albums: "Better Leighton than Never", "Leighton Tendencies" and "Leighton Life" and as an accompanist he has performed on over 70 recordings.
http://tomleighton.info/site/
GENERAL SEATING - BRING YOUR OWN CHAIR!
Follow @porchsidefestival on Instagram for the most current, up-to-date information!