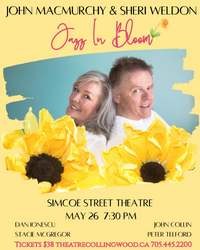 Jazz in Bloom
When
Occurs on Friday May 26 2023
Approximate running time: 2 hours and 30 minutes
Venue
Event Notes
×
Following a string of sold out shows, John MacMurchy and Sheri Weldon return to the stage at Simcoe Street Theatre to present:
JAZZ IN BLOOM!
Bask in the glow of sunny days and blossoming colour. Take flight on a journey of vibrant sound and rhythm. Celebrate the renewal of life and love. Joined by an immensely talented all-star band, John and Sheri promise a captivating evening of jazz, wrapped in enchantment and delight.
"Pure talent all around!! Beautiful set design as well. We absolutely loved every minute of the show....thanks for a wonderful night of incredible music" -Leslie C.
"Seldom does one get to experience such a thoughtful, well-presented musical evening" -Rod I.
"The music, the voice, the stage design....you made me fall in love all over again" - Mikki B.
JOHN MACMURCHY: "It's an honest sound that John uses to converse with the listener. Nothing is hidden. It's all there on the table. Heart. Experience. Pleasure. Life." -Sheldon Zandboer
"John MacMurchy is a fleet, accomplished reedman with a knack for writing and arranging. John's got everything together and balanced out when it comes to: Tone, Technique extraordinaire, and seemingly unending ideas."
John's bio - www.johnmacmurchy.com
SHERI WELDON: "Jazz vocalist, instrumentalist and arranger; a fan of Bebop and Post-bop, Sheri's innate jazz sense and outstanding vocal chops allow her to swing hard and improvise with ease and clarity. Her lyric sensitivity and impeccable phrasing with a ballad are unsurpassed. Combine that with a rich tone that is both crystal clear and warmly soothing and you have a singer of unusual elegance.