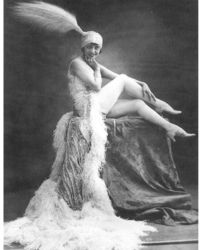 Burlesque Classes for Daring Dames
When
Runs from Thursday April 27 2023 to Thursday September 14 2023
Approximate running time: 1 hour
Venue
Event Notes
×
Theatre Collingwood presents
Girls' Just Wanna Have Fun! - Burlesque Classes for Daring Dames
6 Weeks of Fun!
For mature ladies who want to have fun and try a different artform in this movement class! Kat Salvador will be our instructor for 6 weeks and says she has an amazing time teaching women how to perform burlesque moves in this course designed just for you! No husbands, no kids, just friends and fun! There is no previous experience necessary and these movement classes are great for all body types and fitness levels. Most of all, there will be no judgement. Just come out and enjoy yourself and have a laugh!
Kat has been dancing her whole life and in a multitude of styles. She has performed in venues big and small, all over Ontario, and says she struggled for a long time with self-esteem issues and this is why she wanted to teach burlesque. The goal is to give everyone a positive experience in these classes, and to have them leave feeling uplifted, empowered and even sexy!
Instructor: Kat Salvador Thursday afternoons at 1:30pm-2:30pm Collingwood Library 55 Ste. Marie Street, Collingwood 6 weeks - 1 class per week September 14th - October 19th Limited to 15 Participants $120 + HST per participant for the 6 weeks
If necessary, modified movements will be taught to accommodate people with any mobility issues or those who need to stay seated.
Typical class breakdown:
Gentle warm-up (15 min)

Practicing individual burlesque movements (30 min)

Learning & practicing choreography (15 min)
Is Burlesque Right For You?
It's a low-impact exercise.
Great core strengthening.
Lots of hip movements.
These classes are for mature ladies.
The sensual movements may connect you to your sexy side.
Always a friendly, easygoing atmosphere.
FUN!