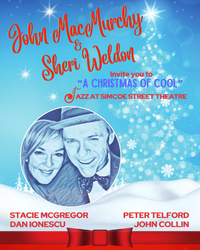 John MacMurchy and Sheri Weldon present A Christmas of Cool - Jazz At Simcoe Street Theatre
When
Occurs on Friday December 2 2022
Approximate running time: 2 hours and 30 minutes
Venue
Event Notes
×
Following a string of sold out shows, John MacMurchy and Sheri Weldon return to the stage at Simcoe Street to bring you….
"A Christmas Of Cool - Jazz At Simcoe Street Theatre"
Celebrate the season with a fun-filled ride through time and reminiscence, swinging arrangements of Christmas Classics and a wonderland of Jazz repertoire. Joined by an all-star band, John and Sheri promise a magical evening that will warm your heart and slide you into a Cool Yule!
Bio for John MacMurchy:
John MacMurchy is a Canadian saxophonist, composer and recording artist. He has released six albums to critical acclaim and international airplay. John has worked with international artists as varied as Warren Vache, Howard Alden, Guido Basso, Henry Mancini, Cleo Laine, Linda Ronstadt, Keith Emerson, and John Dankworth. John's large band, Art Of Breath, has three albums out featuring his original compositions performed by seven of the finest instrumentalists in Canada as well as some superb vocalists. Reviews have highlighted the combination of sophistication and accessibility in the music. He has also written for string quartet and orchestra. A versatile musician, John is busy as a session player, sideman, and arranger on the Toronto scene. The latest release is a live record with 8-string guitar virtuoso Dan Ionescu, recorded before a small studio audience.
https://johnmacmurchy.bandcamp.com/releases www.johnmacmurchy.com
https://www.facebook.com/jmacmurchymusic
Bio for Sheri Weldon:
"Jazz vocalist, instrumentalist and arranger; a fan of Bebop and Post-bop, Sheri's innate jazz sense and outstanding vocal chops allow her to swing hard and improvise with ease and clarity. Her lyric sensitivity and impeccable phrasing with a ballad are unsurpassed. Combine that with a rich tone that is both crystal clear and warmly soothing and you have a singer of unusual elegance."
Sheri Weldon's musical path began at an early age, singing nightly with her father, a multi instrumentalist who introduced her to the music of Louis Armstrong, Ella Fitzgerald, Nat King Cole, and the song stylists of the sixties. Sheri discovered Be-bop and developed a fondness for Charles Mingus and Thelonius Monk as well as vocalists Carmen McRae, Anita O'Day and Sarah Vaughan. Having studied classical piano and voice to a high level, Sheri combines skill with a natural swing and a love of jazz that is reflected in her latest record, Shorty and The Giants. Sheri has performed and recorded with some of the best jazz musicians in Canada such as Mark Eisenman, Pat Collins, Daniel Barnes, Kieran Overs, Nancy Walker, Stacie McGregor, Peter Telford, Danny Weiss, John MacMurchy, and Bernie Senensky.
https://sheriweldon.bandcamp.com/album/shorty-the-giants