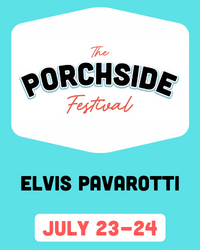 PORCHSIDE FESTIVAL - Sit Down, You're Rocking the Boat
When
Runs from Saturday July 23 2022 to Sunday July 24 2022
Approximate running time: 1 hour
Venue
Event Notes
×
Sit Down, You're Rocking the Boat: My Life as a Character Actor
Written and performed by Scott Hurst
Okay, here's the skinny….. Music For Chubby Lovers is the name of an LP released in 1959 (the year of my birth) by the late, great, character actor, Stubby Kaye. Stubby Kaye is known for originating the roles of Nicely-Nicely Johnson in Guys & Dolls and Jubilation T. Cornpone in L'il Abner. He played the role of Herbie in the movie version of Sweet Charity and he and Nat King Cole are the strolling balladeers throughout the movie Cat Ballou. Cinephiles remember Stubby as one of the human characters in Who Framed Roger Rabbit. In 1985, when I was making my debut as Pirate #6 in Pirates of Penzance at the Avon Theatre in Stratford, Stubby was appearing on Broadway in a short-lived musical titled Grind, and in the chorus of that show was a Canadian actor by the name of Brian Mackay. I wrote to Brian and asked him to give a letter from me to Stubby. In the letter I wanted him to know how much I loved his Nicely-Nicely and that when I performed in Guys & Dolls people always mentioned favourably that I looked like a young Stubby Kaye. I basically fanned all over him for a few paragraphs and then asked him if he would give me his blessing to perform all the material he was known for in a short "Tribute to Stubby Kaye". A month later I received a brown envelope in Stratford, containing a signed black & white headshot. It simply said, "Good luck in your showbiz. Stubby Kaye".
When Erica asked me about doing another Porchside show I was happy to say yes, and the first title that leaped into my head was Music for Chubby Lovers. I thought about mentioning right off the bat that people might have bought tickets because they thought the show was about chubby people who are lovers, as well as people who love chubby people, and then I was going to go on to explain about Stubby Kaye's album and my affinity for all things Stubby... Kaye. But, as I started to work on the show, I started to explore what it means to be a Character Actor in Musical Theatre and how being the height & weight I am, as well as being balding and gay with a speech irregularity, you are "pigeon-holed" into certain roles and certain belief systems about who you are and the "stories" you should be telling. I began pulling together material that I've performed over my 42 years in "the Biz", and the show has become more of a celebration of life as a Character Actor…… with a built-in Stubby Kaye tribute!
GENERAL SEATING - BRING YOUR OWN CHAIR!
Follow @porchsidefestival on Instagram for the most current, up-to-date information!