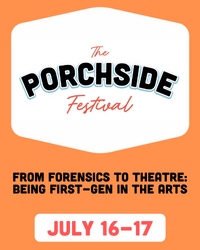 PORCHSIDE FESTIVAL - From Forensics to Theatre
When
Runs from Saturday July 16 2022 to Sunday July 17 2022
Approximate running time: 1 hour
Venue
Event Notes
×
From Forensics to Theatre: Being First-Gen in the Arts
An open dialogue about Canadian theatre (with some singing and Tap dance, too!)
Performed by Andrew Prashad
In this unique show, Award-winning performer Andrew Prashad shares his experiences growing up in Canada, the calamity of trying to balance his culture and heritage with white suburbia, and how it all somehow lead him to study Forensic Science... before switching into THEATRE! Bring all you senses to this one because Andrew will tell stories, sing, Tap dance, and even answer your questions!
GENERAL SEATING - BRING YOUR OWN CHAIR!
Follow @porchsidefestival on Instagram for the most current, up-to-date information!