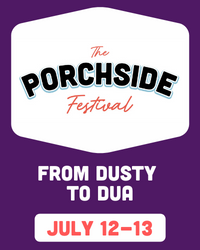 PORCHSIDE FESTIVAL - From Dusty to Dua
When
Runs from Tuesday July 12 2022 to Wednesday July 13 2022
Approximate running time: 1 hour
Venue
Event Notes
×
Starring Leah Allyce Canali with accompanists Chris Tsujiuchi and Mike Meusel
From Dusty to Dua is a retrospective of all of the best British Soul voices ~ Adele, Amy Winehouse, Dusty Springfield, Shirley Bassey, and even the Spice Girls! Leah Anne Canalli uses the music of these female superstars to tell her story of working as a touring vocalist and songwriter.
GENERAL SEATING - BRING YOUR OWN CHAIR!
Follow @porchsidefestival on Instagram for the most current, up-to-date information!