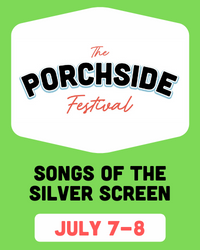 PORCHSIDE FESTIVAL - Songs of the Silver Screen
When
Runs from Thursday July 7 2022 to Friday July 8 2022
Approximate running time: 1 hour
Venue
Event Notes
×
Starring Dean Hollin.
Dean is a native of Hamilton, Ontario. It was while living in that city when, in his mid-twenties, he found himself in a show called "Anything Goes" and promptly fell head-over-heels in love with the music of Cole Porter and the music of the Great American Songbook, of which he's layered on a lot of knowledge about over the years – as well as a rather hefty collection. Recently, Moses Znaimer and Zoomer Radio hired him for a bunch of on-air duties including taking over the reigns as host of "Big Band Sunday Night" – four hours of programming which includes an hour of his own creation "Radio Limelite – All Things Great American Songbook".
A professional entertainer for nearly three decades now, Dean came to Collingwood in 2003 to assume the role of Artistic & Managing Director of The Gayety Theatre, which at that time began presenting live entertainment. His professional credits include television, film and radio, as well as scores of roles in theatres throughout Ontario, North American and beyond. For years now in the South Georgian Bay area, Dean has operated musical theatre camps and classes for youth. He has done so much of this aided and abetted by the greatest love of his life – wife, Gayle, with whom he has four fascinating and beautiful children.
GENERAL SEATING - BRING YOUR OWN CHAIR!
Follow @porchsidefestival on Instagram for the most current, up-to-date information!