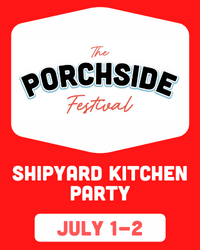 PORCHSIDE FESTIVAL - Shipyard Kitchen Party
When
Runs from Friday July 1 2022 to Saturday July 2 2022
Approximate running time: 1 hour
Venue
Event Notes
×
FREE ADMISSION! A GIFT FROM THEATRE COLLINGWOOD TO CELEBRATE THE BEGINNING OF THE 2022 PORCHSIDE FESTIVAL!
Featuring John Eaton (Guitar, Bass, Mandolin, Vocals), Sacha Law (Bass, Vocals) and Jason Murphy (Bodhran, Vocals).
With Americana heart and East Coast soul, Shipyard Kitchen Party blends strong storytelling, traditional instrumentation, catchy pop hooks and sly humour for a fresh take on the folk music genre. They're Gordon Lightfoot having a dram too many with Great Big Sea and Stan Rogers crossed with "Who's Line is it Anyway." They'll make you stomp your feet, laugh and maybe even shed a tear. And above all, they WILL have fun with you.
Although they are united as long time Collingwood residents, Sacha Law was born in Dundee, Scotland, Jason Murphy from St. John's, Newfoundland and John Eaton from Scarborough, Ontario. Each of them bringing a variety of musical influences and backgrounds to the "party"!
Shipyard Kitchen Party was a showcase performer at the 2019 Ontario Contact Festival and winners of the Blue Mountain Foundation for the Arts Robert G. Kemp Award. Their first studio album, "Tom Thomson's Wake", will be released this summer.
GENERAL SEATING - BRING YOUR OWN CHAIR!
Follow @porchsidefestival on Instagram for the most current, up-to-date information!