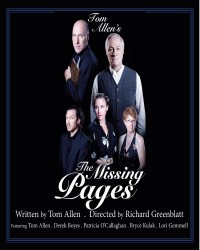 The Missing Pages - ONLINE
When
Runs from Friday November 13 2020 to Saturday November 14 2020
All Day Event
Venue
Online
www.theatrecollingwood.ca
Collingwood ON L9Y 3P2
Event Notes
×
On December 16, 1825 Theodor Molt became the sole Canadian to meet Ludwig van Beethoven, but what could have happened between the two men? After Molt's florid greeting in one of Beethoven's notebooks, the following four pages were violently ripped out and destroyed. Betrayal? Competition? Scandal? Or just old fashioned ego and pride? With music, song, drama, history and informed speculation, The Missing Pages investigates.
Starring:
Richard Greenblatt – Director
Derek Boyes – Ludwig van Beethoven
Tom Allen – Anton Schindler
Patricia O'Callaghan – Susannah Sotto
Bryce Kulak – Theodore Molt
Lori Gemmell – Harpist
Covid-19 has put great restrictions on the theatre world, making it not possible for us to bring to you live performances in person. Therefore, Theatre Collingwood is venturing into the world of streamed performances and invites you to attend from the safety and comfort of your own home!
Please join us for this brilliant production from CBC radio host Tom Allen.
HOW IT WORKS: You will purchase a "ticket" for the low price of $25 plus HST. This will entitle you to a link to the performance, that you and your household may watch over a 36 hour time frame, beginning on Friday, November 13th at 7pm EST. The link will be sent to you on the day before the show and our staff will be available to help you with any questions you may have. You will simply click on the private link and enjoy the show!
The wonderful thing about this concept is that it holds no geographical barriers, so please tell your friends and family, wherever they live in the world, that they may also buy the link. Or you may want to purchase it as a gift for someone.
Theatre Collingwood: Bringing great performances to our community for 36 years. And now from the comfort of your living room!