PORCHSIDE FESTIVAL - Every Brilliant Thing Friday July 22 2022 at 2:00 PM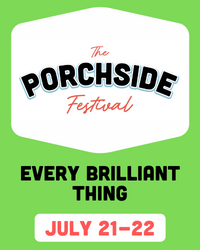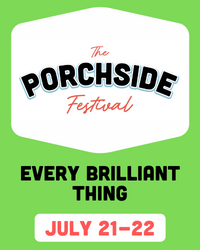 You've selected
Friday July 22 2022 at 2:00 PM
Change Date
×
Written by Duncan Macmillan and Jonny Donahoe
From Talk Is Free Theatre
Starring Michael Torontow
Hugs, the smell of old books, a hairdresser who listens to what you want. The colour yellow, roller coasters, ice cream — as a mother battles chronic depression, a child creates a list of every brilliant thing they can think of, to remind them what makes life worth living. As the child grows, so does the list. Looking back on a life of ups and downs, the man takes the audience on an inspiring journey that celebrates finding joy in the mundane and being grateful for the simple pleasures hiding all around us. At once intimate and interactive, this touching, funny, and uplifting performance chronicles life's small joys and reveals the lengths to which we will go for those we love. A beautiful piece of work performed by an incredible talent!
GENERAL SEATING - BRING YOUR OWN CHAIR!
Follow @porchsidefestival on Instagram for the most current, up-to-date information!
Venue
275 Third Street
275 Third Street
Collingwood ON L9Y 4E7
×
This is a general admission performance - the seats are on a first come, first serve basis when you arrive at the venue.